Website Development for Shilpi Gupta | Luxury Fashion Brand
Shilpi Gupta is a premium luxury couture brand that offers a range of traditional and contemporary clothing. The brand is known for its exquisite craftsmanship, attention to detail, and use of high-quality materials. Shilpi Gupta caters to a niche clientele that values exclusivity and luxury.
Digital technology has made our world more transparent and interconnected, posing new challenges and opportunities for every business. A holistic, user-centric perspective is what truly sets one apart.
Project Name
Website Development for Shilpi Gupta | Luxury Fashion Brand
Our Role
Website Development
Shilpi Gupta approached Savvytree, intending to revamp their online store, which needed to be better designed. The website needed to showcase the brand's products and aesthetics while providing a seamless and engaging user experience.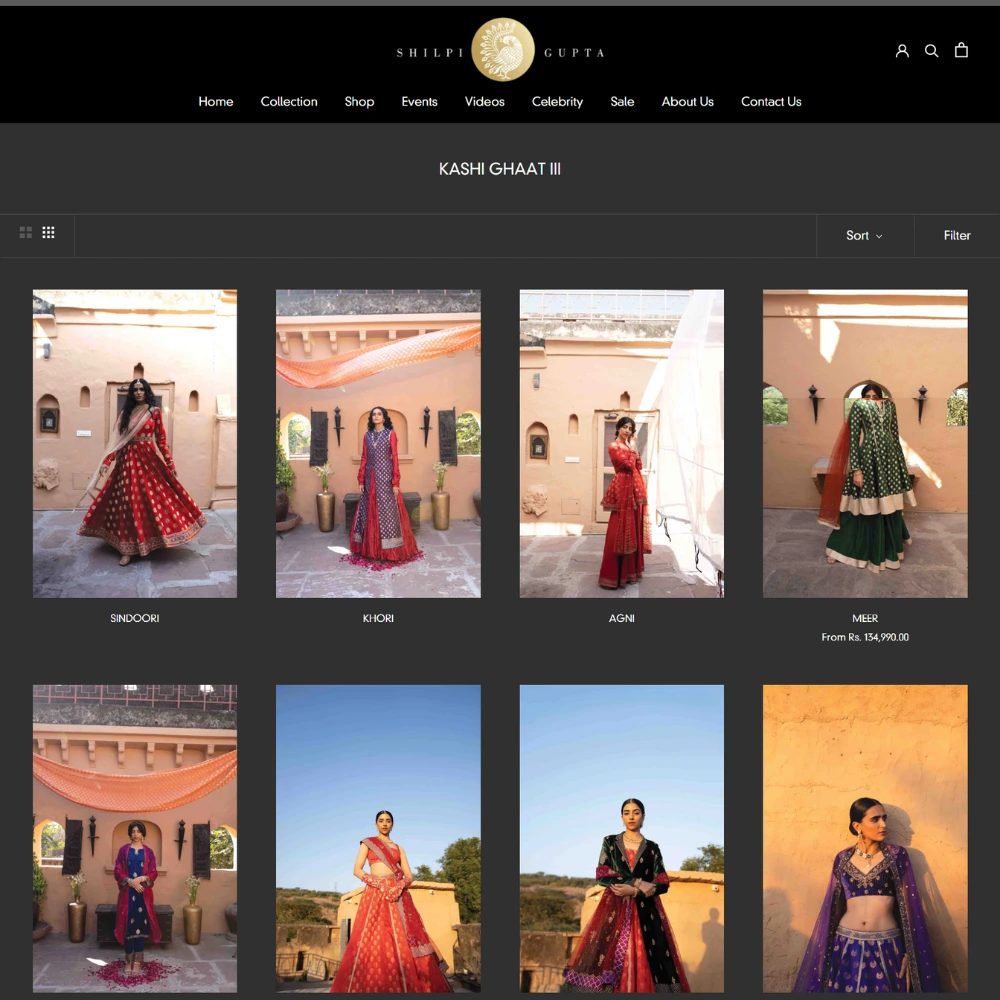 The website features a sophisticated and luxurious design, showcasing the products' premium quality and craftsmanship. The font used conveys a sense of cultural richness and heritage.
The color scheme is rich and opulent, with vibrant and jewel-toned hues reflecting traditional wear's cultural influences. The website also incorporates intricate and elaborate designs to showcase the intricate details of the garments.
Luxurious and minimal designs, such as simple silhouettes or clean lines, highlight the premium quality of the materials and construction of the garments.

It provides detailed product information, including sizing, materials, and care instructions, to help customers make informed purchasing decisions. The website also features customer reviews and testimonials to build trust and credibility with potential customers.
We ensured that the Shilpi Gupta website is optimized for mobile devices, as a significant portion of the brand's target audience accesses the website on their smartphones. The mobile version of the website features a simplified layout that retains the luxury and sophistication of the desktop version.
The website is responsive, ensuring a seamless user experience across all devices.
The product catalog is the heart of the Shilpi Gupta website. Savvytree designed a user-friendly catalog that allows users to filter products by category, collection, events, and celebrity. Each product has a high-quality image, detailed description, and pricing information. Users can add products to their cart and checkout seamlessly.
In conclusion, the Shilpi Gupta website, redeveloped & managed by Savvytree, reflects the brand's luxury, sophistication, and attention to detail. The website provides a seamless and engaging user experience, ensuring that the brand's clientele can access its exclusive products anywhere in the world.