Background and Challenges:
Sheffy is a newly launched home delivery platform that offers a unique service – delivering home-cooked meals prepared by talented chefs directly to customers' doorsteps in Gurgaon. Its app aims to provide users with a convenient and delicious alternative to traditional takeout options, promoting the idea of enjoying restaurant-quality meals in the comfort of their homes.
However, the home food delivery market is highly competitive, with several established players dominating the space. We faced several challenges, including:
Establishing Brand Presence: Being a new player, we worked hard to build brand awareness and establish them as trustworthy and reliable options for home-cooked meals.
Target Audience: Identifying and reaching the right target audience was crucial. We needed to understand the preferences of potential customers and tailor our marketing strategies accordingly.
Competition: Competing against well-known food delivery services took time and effort. We differentiated by highlighting their unique value proposition and benefits.
Logistics and Delivery: Ensuring smooth and efficient delivery logistics was vital to maintain customer satisfaction and loyalty.
Our primary goals for the social media marketing campaign were as follows:
Increase Brand Awareness: Increase visibility and reach on social media platforms to make people aware of Sheffy and its offerings.
Engage with the Audience: Encourage active engagement with potential customers through likes, comments, and shares to foster a sense of community.
Drive App Downloads: Persuade social media, users to download the Sheffy app and try out the service.
Educate about Benefits: Educate the audience about the benefits of ordering home chef-cooked food through Sheffy, such as convenience, variety, and quality.
Generate Conversions: Drive sales and increase order volumes to ensure the app's long-term viability and success.
Implementation and Results:
Step 1: In-Depth Audience Research
To achieve the goals, we conducted thorough audience research to understand the preferences, habits, and pain points of potential customers. This research helped our team tailor their content and messaging to resonate with the target audience effectively.
Step 2: Compelling Content Creation
We developed engaging content showcasing mouthwatering dishes, behind-the-scenes glimpses of chefs preparing meals, and customer testimonials. High-quality images and videos were used to capture attention and evoke cravings.
Step 3: Platform Selection and Scheduling
We identified the most relevant social media platforms based on audience demographics and behavior. Our team created a content calendar to maintain consistency and scheduled posts at peak times to maximize reach and engagement.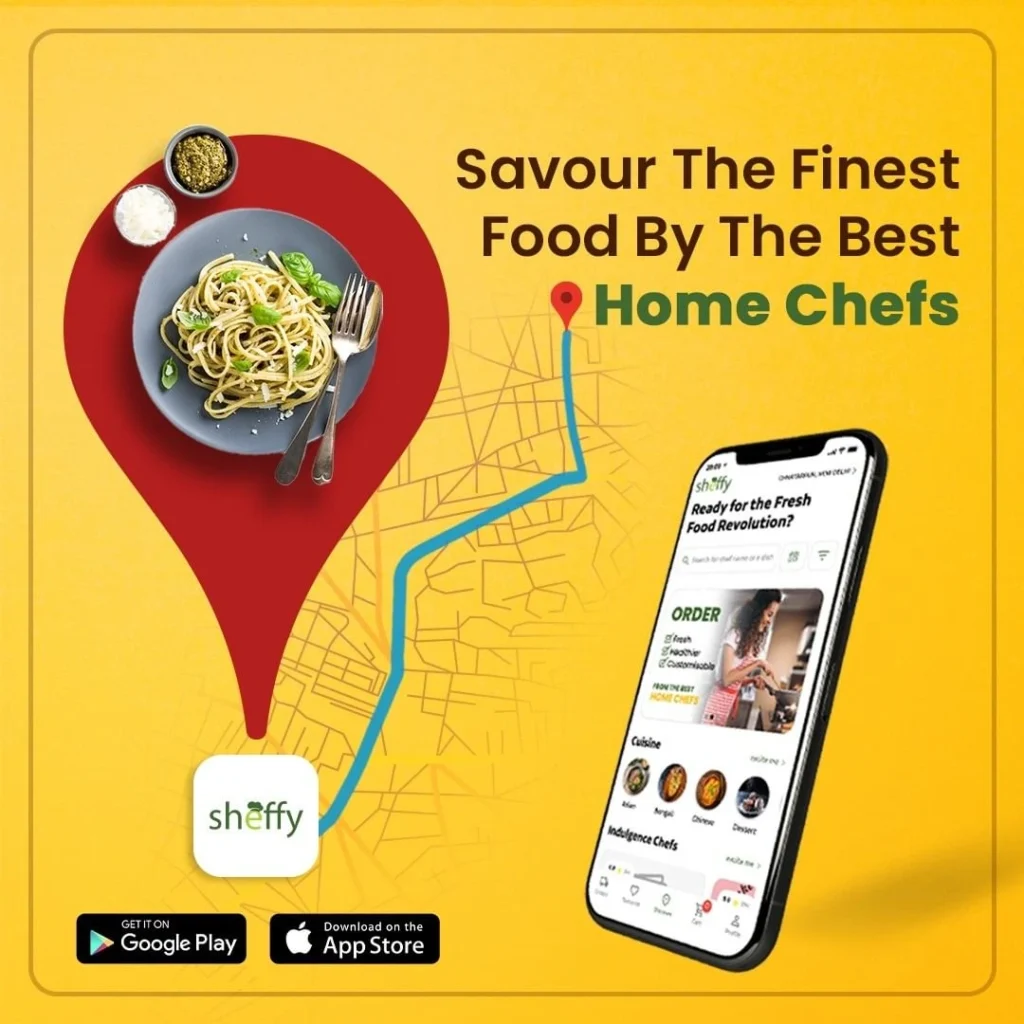 Step 4: Contests and Giveaways
To boost engagement, we ran creative contests and giveaways, encouraging users to participate and share their Sheffy moments. This helped create a buzz around the app and attract new customers.
Step 5: Customer Reviews and Testimonials
We actively sought and shared customer reviews and testimonials on social media. Positive feedback reinforced the app's credibility and encouraged others to try the service.
Brand Awareness: Sheffy's social media presence skyrocketed, with a substantial increase in followers and reach.
Engagement: The content resonated well with the audience, resulting in higher likes, comments, and shares.
App Downloads: The social media marketing efforts significantly contributed to a surge in app downloads.
Conversions: The increased visibility and engagement led to a notable boost in orders and revenue.
Overall, Sheffy's social media marketing campaign played a pivotal role in establishing the app as a reputable and preferred choice for home-cooked food delivery, helping it gain a competitive edge in the market.