LinkedIn is changing the landscape of digital marketing advertising and how.
Reid Hoffman created LinkedIn back in 2003. His purpose was to create a platform where professionals could gather, connect, and exchange useful information. What he didn't know was that soon LinkedIn will become the most preferred choice of marketers around the globe.
Today, LinkedIn has over 760 million users, with more than 260 million monthly active users but it is not just the growing user base that has made it so attractive among digital marketers. There's more to it.
Apart from generating business leads and targeting the right customer, LinkedIn is a wonderful way to connect with like-minded professionals, leaders, and genuine followers. An active LinkedIn profile and regularly posting engaging content can be quite useful in building one such network. These efforts prove to be fruitful for the business in one way or another.
In a study of over 5000 businesses, HubSpot found that traffic from LinkedIn generated the highest visitor-to-lead conversion rate at 2.74%, almost 3 times higher (277%) than both Twitter (.69%) and Facebook (.77%).
Infographic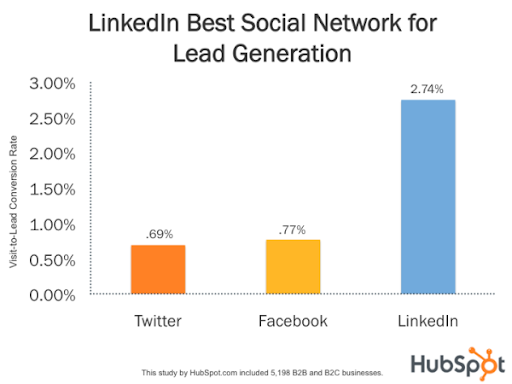 LinkedIn generates the highest business leads in comparison to other social media sites. This can be attributed to many reasons.
LinkedIn is a business-oriented platform that is considered to be more reliable than its peers when it comes to making decisions. An active, completed, and updated LinkedIn page of a business validates its professionalism and makes it look more authentic and relevant.
Another possible reason that LinkedIn is considered to be an exclusive place to generate B2B leads for a business is that it offers unique search features. Therefore, it helps a business to perform in-depth research for potential B2B leads. This makes it different from other social media sites which just allows performing a generic search. LinkedIn also allows filtering out search results.
For example, a business looking to promote its products or services online can find a plethora of digital marketing agencies over LinkedIn. Just by typing digital marketing in the search bar and then simply applying the "companies" filter, one can find the right agencies. The results can be further reduced to a few by applying more filters such as location, industry, company size, etc. This can't be done on other social sites. This way, LinkedIn helps several businesses save days of searching for the right partner and also generates a potential lead for the other.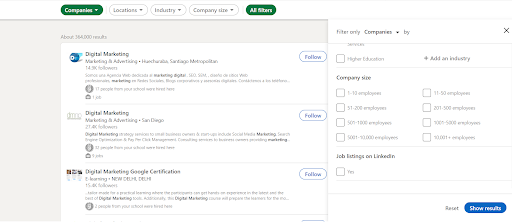 The readily available target market for certain industries
Professionals, CEOs & MDs, startup founders, college students all are on LinkedIn. They trust LinkedIn for finding professionally relevant data. LinkedIn is rated high when it comes to value gained from social media initiatives by the professional community. This category of the user base is only relevant to specific industries. Thus, it is not wrong to say that LinkedIn is a readily available target market for such industries.
Professionals on LinkedIn talk about their employer, the industry they work in, their expertise, and students share information about their higher education, the relevant skills they possess. All this information helps a business in targeting its promotion efforts toward a particular segment of customers on the site, thus eliminating the need to chase those who wouldn't even be interested in buying from the business.

For example, if an institute is looking to promote its postgraduate programmes then it can easily find its target audience on the platform. Students who are currently pursuing graduation in the same fields as the institute is offering postgraduate courses in. The institute can start targeted sponsored messaging ads using LinkedIn Marketing.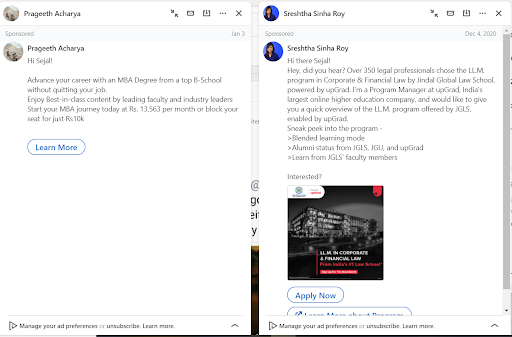 Why Other Social Media Sites Fall Short?
Facebook-
Facebook is more of a social site where people share posts about their vacations, weddings, birthdays, and other life events which makes it less apt for B2B advertisements, and targeted ads especially after the introduction of the locking up of profiles feature. Several studies also indicate that personal information on LinkedIn is more secure than on Facebook.
Twitter-
Twitter is slowly turning into a battleground of trending hashtags. In the past few years, it has acquired a controversial reputation as its senior officials fight to curb misinformation which spreads way quickly and takes away the attention from promotional activity. Twitter also has a limited messaging capability and it doesn't allow to search for past information or posts.
Instagram-
Instagram is considered to be more youth-oriented where people just go for entertainment. It's more about sharing pictures and videos which limit it to products rather than the entire business.
Sources: 8-reasons-why-linkedin-is-better-than-facebook-for-business
linkedin-best-social-network
linkedin-statistics