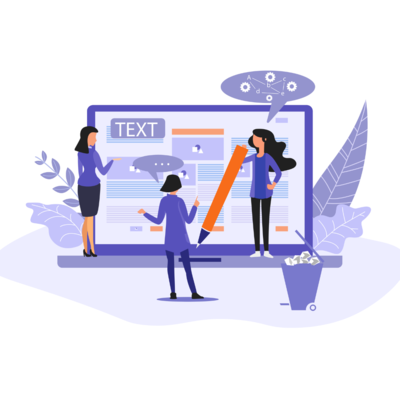 Quality content is the cornerstone of an effective online marketing strategy. Content communicates business's message, educates the audience and even persuades them to take action. Therefore, creating relevant content is of utmost importance for any business. Here is a complete guide for beginners to understand content marketing from scratch.
What is Content Marketing?
Content marketing is a form of marketing which focuses on creating, publishing and distributing content for targeted audiences online. Content marketing can have several objectives like increasing revenue, generating leads, building brand credibility and awareness. Simply put, content marketing is a long-term strategy to build a secure as well as lasting relationship with one's audience by providing value through quality content, thereby leading to a purchase decision.

Content Marketing does not even feel like marketing since it adds value to the customer's journey and answers their doubts towards the product, service or brand. Unlike paid advertising, content marketing aims to provide useful information to the customers in order to build trust and secure ties instead of just seeking profits. 

Now that we know what Content Marketing is, let us understand its purpose.
Why is Content Marketing important for a business?
The foremost function of content marketing is to educate about products and services to one's existing as well as prospective customers. This creates brand awareness and helps influence buying decisions. According to a recent Statista report, 70% of customers would rather like to learn about a business through an article over any kind of advertisement.

Thus, content marketing becomes an important way to cater this need of consumers.
Content marketing allows businesses and brands to connect with a wider and evolving consumer base. Global audience can be targeted, thus expanding the market size and not being restricted by any boundary. It also helps in understanding the scope for improvement through interaction and feedback.

As compared to ads, content marketing is less expensive. According to Demand metric, Content Marketing costs 62% less than outbound marketing and generates 3X as many leads. Besides, customers do not always like products and services marketed to them. Instead they appreciate the value addition through useful content provided by businesses, ultimately helping them make a well-informed decision based on what works for them.
It is widely believed that content drives action. The consumer is always searching online for products and services. If they do not understand and appreciate its utility, they will not move further in the funnel and make that purchasing decision. Hence, it is the content that answers their 'Why' to opt for a particular product, service or brand.
Finally, content marketing provides room for building a strong relationship between your customers and the brand. Fostering a relationship built on trust and loyalty creates a sense of community around the brand. The CEO of Moz, Rand Fishkin is popularly quoted, 'Don't build links. Build relationships.' Content marketing exactly does that.
Where to do Content Marketing?
Now that the purpose of content marketing is clear, continue to read how to get started with your content marketing strategy. The first step now is to choose a medium for content marketing. Following are the different mediums available to begin with.
Blog Content Marketing: Your website blog is the most important medium for inbound marketing. Blogs have the ability to convert readers into customers through educating and providing helpful information.

As mentioned in Hubspot's 2020 report, blogs are among three primary forms of media used for content marketing strategy. Content Marketing uses storytelling to capture the interest of the audience and thereby inform how one's business can help them solve their problems. Blog content marketing works well for everybody because of this.
Social Media Content Marketing: According to Statista, 3.08 billion users worldwide use social media. With that being said, the commercial use of social media for one's business is increasing at a breakneck pace. Platforms like Instagram, Facebook, Pinterest, LinkedIn and Twitter are being used to promote one's business. It is particularly important to make use of different social media channels for content distribution, with a strategy in place.
Infographic Content Marketing: Infographics are a great way to provide information in a visual and simplified manner. It is about embracing the less is more philosophy to communicate your brand's message. Short text or just graphics individually may not be as effective but combining the strength of the two to come up with a powerful communication tool that can make targeted audiences understand even complex concepts is a smart idea indeed. Infographics also goes well with SEO.
Video Content Marketing: As mentioned in the 2020 Report of Hubspot, Video has become the most commonly used format in content marketing, overtaking blogs and infographics. Videos have now become a go to option for marketers as well as the consumers leading to spur in its consumption. Video marketing boosts conversion, increases Rate of Investment (ROI) and helps develop a relationship with your customers.
Podcast Content Marketing: Podcast is the most engaging and young medium with several advantages for the business. Content marketplace is extremely competitive. The biggest advantage of Podcast content marketing is that not many businesses are using it, which limits your competition and increases your chances of growth.
Who is the target for Content Marketing?
While developing a content marketing strategy, it is important to keep the target audience in mind. It does not work passively like simply creating and posting a blog and waiting for readers to take action. Rather, it is about focusing on the target audience, keeping their interests in mind and being specific to what they are searching for. Quoting Meredith Hill, "When you speak to everyone, you speak to none." The principle applies to marketing as well. Therefore, it is important to have a clarity towards the audience intent for planning effective content that converts.
When to do Content Marketing?
When it comes to content marketing, consistency is the key to improve one's performance. Content marketing can be done all the time. There is no better time than now to begin with it.
How to begin with Content Marketing?
Know your customer: The first step is to clearly define one's audience. Understanding their needs and behavior helps in creating solutions for the problems they face. This is also the stage where it is decided what kind of content the consumers are searching for.

Define your content marketing goals: The next question that needs to be answered is the objective of your content marketing campaign. The goal can be to establish trust, create awareness, educate about products that you sell or establish one's position and authority in the industry.
Medium for content: Further step is to decide the medium to use for your content marketing. As mentioned above, one can use social media, blogs, videos, infographics or podcasts. It can definitely be a mix of a few options that work well for your business.
Create content planner: A content planner helps in organising and scheduling the content to be posted on the chosen medium. It also helps in tracking the status of content marketing strategy.
Finally, keep creating content and let it do the talking for your brand and business.
Get started with your content marketing strategy with SavvyTree.