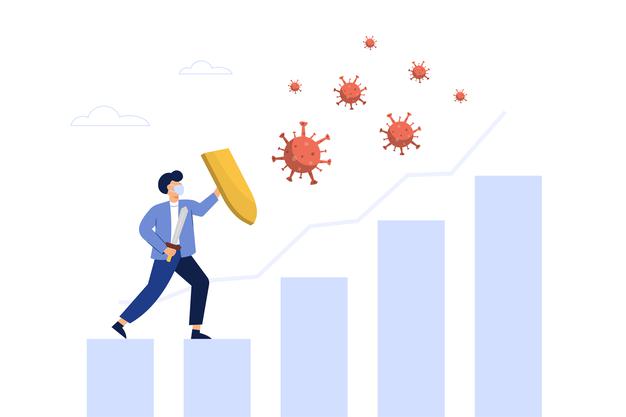 There's hardly any business that didn't feel tremors and shocks caused by the pandemic. The lockdowns put in place to curb the spread of Coronavirus caused the Indian economy to contract by 24.4% in the April-June quarter in 2020. However Indian economy reported growth in the December quarter of 0.4 percent after two-quarters of contraction. Majorly impacted were those businesses that were largely dependent on offline channels for sales and marketing campaigns and failed to quickly adapt to the volatile business environment we are in today
As per Nielsen Report on COVID-19's impact on changing landscape in India, mid to the senior leadership of most organizations, including consumers from 35 to 44 age bracket increased their internet consumption by 11% while millennials observed an average increase of 5-7%. Because of this, some companies which offer their services online have reaped the benefits of an unexpected opportunity that came their way and are now enjoying humongous success. Some online platforms such as online meeting apps, ed-tech firms, gaming apps, e-grocery apps, digital health, pharmacy, and OTT sites saw an incredible increase in demand for their services. 
Take the case of "Zoom", an online video conferencing app founded in the year 2009 by Eric Yuan, took some nine years to get the success of its dreams. All thanks to the pandemic, the video conferencing company ended the year with a net profit of $671 million, up from just $22 million in fiscal 2020. Zoom previously said that usage has grown to 300 million meeting participants each day, up from just 10 million in December. Despite all the controversies it faced, whether it was the privacy concerns raised by the Indian government or everyday news of hackers intruding in public along with video chats and displaying unethical content or the discovery of the term "zoombombing" used when one got bored of Zoom meetings. The response to Zoom as an online meeting app also prompted its competitors such as Microsoft Teams, Google Classroom, GoToMeeting, and TeamViewer to pull up their socks and get ahead in the race. Not only this but its success also paved the way for other businesses in the field, for example, India's most valuable company Reliance Industries developed an Indian version of it called JioMeet. Zoom's journey is impressive but not ephemeral.
Just as Zoom, Byju's which is India's biggest and most valuable e-learning platform, also experienced the best business of its life during the COVID-19 crisis. Byju's added a whopping 7.5 million new users on its platform since it started offering free classes to 1.5 billion students who are locked up at home and are studying online. It has witnessed a 150% surge in new students after announcing free classes. In April 2020 alone, the Bengaluru-based firm earned 350 crores despite providing free subscriptions to students all over the country. 
"We just finished our best month in April despite being free. We're expecting to double that [revenue] in the next three to four months, We are fortunate to be in a business that has a positive relevance now. The monetization has improved because this is a clear inflection point. Good companies in the sector will skip a few years in their growth."
Byju's co-founder and CEO Byju Raveendran told in an interview with YourStory.
Many more businesses in different fields are also experiencing such out-of-the-blue successes. In April 2021, 10 companies including Meesho, Pharmeasy, Cred, Groww, etc were declared unicorn companies with increased flow of investments. Companies have used social media to achieve new heights in the lockdown. From starting trends to keeping up with them, they have done it all to maintain engagement.
Along with the industries that flourished, the pandemic also led some toward decimation. Temporary suspension of operations of certain businesses either pushed them into bankruptcy or on the verge of it. Some faced losses that they never faced before. Businesses in sectors of aviation, automobile, realty, tourism, and retail are the worst hit by the novel Coronavirus and it will take years for them to get back at pre-COVID levels of sales.
Small businesses, unlike deep-pocketed corporations, found it even more difficult to withstand the adversities caused by the pandemic. At a time when physical sales and face-to-face interactions with customers have been restricted, any traditional business without internet connectivity with customers could lose its momentum and this happened with a majority of small businesses in India where internet literacy still lacks among businessmen. Recently, a report published by credit card bill payment platform CRED showed that e-commerce spending even surpassed pre-COVID-19 levels after the lockdown across Mumbai, Delhi, and Bengaluru as more individuals opted to shop online. This presents an additional challenge to the already struggling small businesses that could not reach out to their customers in any way. 
The pain that these businesses felt could have been mitigated if they had a digital presence. Today, when more than half a billion people in India have access to the internet and are spending most of their time online, it is imperative for every business to connect and create a community of its customers online. Not only will this help in increasing customer's loyalty but it will also give them a sense of inclusion which will create a positive image of the brand in their eyes. Any brand with a strong online presence will never have to worry about reminding its customers of its products. A deep-pocketed right digital marketing strategy will take the brand in front of the right audiences on its own. Today, there are numerous digital marketing agencies in India that can help these businesses in creating awareness and engagement in their target audiences.
SavvyTree, a digital marketing agency itself, can help you reach your business goals by providing your required digital marketing services. Our services like Website Development, Content Marketing,Social Media Marketing, Influencer Marketing, Email Marketing, Online Reputation Management, Creation of Digital Strategies, Branding of your product, Search Engine Optimisation and Pay Per Click. We are a team of young and enthusiastic individuals who know the art of digital marketing.
Contact Us for a free consultation.
Go Digital With SavvyTree.
FutureLearn aims to help everyone fulfill their potential in a changing world, by transforming access to education. Find a new career based on your current skills here: