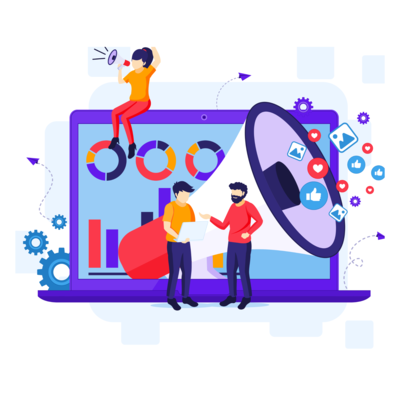 COVID 19 pandemic has altered every aspect of our lives and has caused enormous impact on the world. While we are still trying to adjust to the changing situations, digital platforms have been a blessing. Digital marketing has now become more important than ever before. It has proved to be the most useful medium to continue with one's businesses.
Following are some of the trends that have become a rage in the field of digital marketing:
Interaction in the form of videos, stories, quizzes, frequently asked questions are used to connect with one's audience. Educate, Engage, Empower is the drill.
Engaging the audience with meaningful and relevant content is helpful in building a community of users. Such interactive content also brings in feedback and keeps the audience intact with the brand. Interactive content has kept at least the virtual touch alive in this tough time.
2. Search Engine Optimisation:
Search engine optimisation boosts your website's rankings organically and builds brand credibility.
Search optimised websites are helping businesses increase their visibility for their target audience. SEO efforts have amplified in the midst of the current crisis. With more users searching online and fewer options for marketing tactics to succeed, SEO is proving to be a differentiating factor between brands that are continuing to see engagement during this time and those that are not.
Rapid growth in e-commerce is observed with the need to shop in a safe, hygienic and convenient manner by customers.
With physical stores being shut, It has led to a massive shift from brick to click which has made businesses viable in the given time and situation. If you have a Facebook/Instagram Page for your e-commerce business, you need to take advantage of Facebook shops. The idea behind Facebook Shops is to bring millions of small businesses online who have had to close their stores due to Covid-19. This feature can be put to great use by listing the products you're selling with a shoppable tag which will allow you to connect with more buyers through Facebook platforms.
With events being cancelled and people staying at home, live streaming is the new buzz.
Businesses are going live on digital platforms like Facebook, Instagram, even Zoom for webinars, to educate their consumers, promote their products and services and boost their brand image. Live Streaming allows your business to have real time interaction. It is turning out to be the best way to stay connected with one's audience virtually and keep them entertained and engaged.
These are some digital marketing trends that have been around since a while but emerged successfully during the COVID 19 crisis. Digital Marketing strategies are enabling businesses to operate and optimise in these difficult times. It is the right time for your business's digital transformation.
Catering to all your digital marketing related needs, SavvyTree.